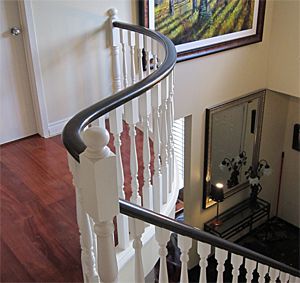 Painting or finishing is a great way to bring life to your space and make a good impression. At Jo-Co Interiors Ltd. we go that extra mile to make your space your own. By paying attention to detail and using top of the line equipment and products we ensure a quality professional job that will last for years to come.
Serving Calgary and surrounding areas, Jo- Co Interiors Ltd. Offers a variety of paintingservices for interior commercial spaces and residential homes including:
Painting

Wood finishing

Faux finish

Wallpaper

Vinyl
Jo- Co Interiors uses only the highest quality products including:
General Paint, Sikkens, Valspar, Sico, Benjamin Moore & European Fine Paints
---
INTRODUCING!! Painter for a Day!
JO-CO has developed the Calgary Painter for a Day program to make it easy for customers to get small jobs done within a budget.  It is perfect for those customers, residential or commercial, that have several small items that need attention.  This program means all you have to do is ask for a "Painter for a Day", no estimate necessary.
What we need from you:
To make the day a success we will need you to help out with a few things:
Know your paint colour and brand, if we have to go to the store this takes away from our time in your home
Clear the area to be painted – we don't mind moving furniture, but we require that you move breakable ornamentals, and your paintings.
Keep your pets out of the area to be painted, we don't mind pets, but we find they try to "help" potentially causing a mess.
How much can we do in day?
Obviously every job varies, but we have listed some rough guidelines below to assist you:
To re-paint a door and frame allow 1 hour /coat
To re-paint a typical room (up to 12×14) allow 1.5 hours / coat
To re-paint a window frame and jamb allow 30-45 min/window
How long is a day?
Our painters work an 8 hour day, and will take 2 coffee breaks and 1 half hour lunch.  Start time will vary with the customer's needs; we can start as early as 7 AM, and as late as 9AM.
Cost:
Your Painter for a Day will cost $425 + GST, and includes 1 gal of paint.
---
DIY – With Help
Are you a DIY type?  We can help with that too!  All too often we see home owners get off on the wrong foot, making the project unenjoyable when it doesn't have to be.  While we would prefer that you use our qualified professionals to paint, we understand that sometimes you will want to do it yourself, and we want to help with that.  For a consultation of only $150*, we will assess your project, and prepare a written process for you to follow.  We will also be able to advise you of what tools you will need and offer them to you at better than retail prices.
*$150 for the first hour, each additional hour is $100/hr.